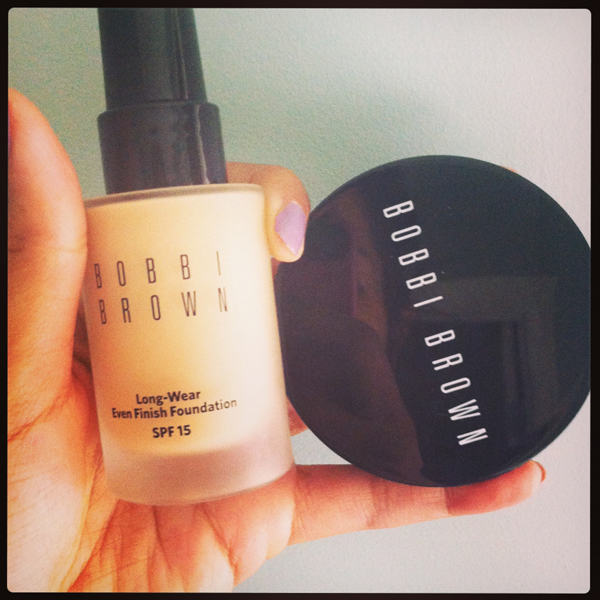 I've been a fan of Bobbi Brown Foundation for a long time, because it's one of the few brands that makes a colour that matches my skin exactly. For a long time, I bought the Bobbi Brown Oil-Free Even Finish compact foundation. They no longer make that one, but they do have a Long-Wear Even Finish Foundation that comes in a pump and cream compact formula. I just tried both of them, and while neither is a cream-to-powder number, both do work on all kinds of skin types, and best of all, they are meant to last the whole entire day.
Let's start with the liquid foundation since it came first. This foundation contains SPF 15 and is medium to full coverage, which is the case with most long-wearing foundations. Unlike most other long-wear foundations it has an extremely light texture and does not have a matte finish. In fact, I would even say that this is a moisturizing foundation because it's quite dewy.
When I used this foundation, I did find that it lasted the whole entire day on me. I didn't even powder it and preferred to apply it on to bare skin so that it would really stick to the skin. It wasn't oil absorbing but perhaps because it was adding moisture into my skin, I found that my skin wasn't overly oil throughout the day and this foundation just looked perfect.
What I didn't like about this foundation is that it seemed to accentuate imperfections in my skin. Any kind of uneven-ness was just highlighted and although you couldn't see that from afar, this isn't a foundation that I'd want people to see sitting next to me. I might wear it when I'm getting photographed or if I was giving a speech, but it wouldn't be my choice to wear to work everyday.
The compact is a different story. Created as a complement to the Long-Wear liquid foundation, this compact is still oil-free but it's not a completely matte powdery finish. It's a satin finish and is light to full coverage. You can really build it and play with it. I use the accompanying sponge for everyday, but find that I can use my fingers and go back and dab on where I need to. I tried using a brush to apply this foundation and I found that the bristles stuck to the compact so I wouldn't recommend that.
This foundation really does look like real skin. It's even, it's not powdery but not greasy either, and again, although it's not strictly oil-absorbing, it stays in place all day and just seems to stick to the skin.
The liquid foundation is $55 and the compact is $54. I've been told that the compact doesn't last a long time and my experience with the Oil-to-Powder compact was the same – it would last me a couple of months and that was it. But that being said, because I loved the foundation so much and because there was nothing else like it, I just kept using it and going back to it, and I feel the same way about the Long-Wear Even Finish compact foundation. There's nothing like it out there, and so if you need a long-wearing foundation that looks natural and is still light, then this will be your best bet.
Pick up both foundations at Bobbi Brown counters in Holt Renfrew or Sephora.