I've been a Bobbi fan for a long time. I follow her on Instagram, and watch interviews of her on YouTube when I can. She can do no wrong.
Nude Glow is just what I needed for spring and I think you'll love it too.
This collection has three eye shadow palettes, 3 all-over Brightening Finishing Powders, Sheer lipsticks (a personal favourite), and some natural-looking nail polishes.
The colours are divided up into three colour families: Crystal (for the lightest skin tones), Nude (medium), and Bronze (deeper skin tones).
I got some of the shades in the bronze collection: the bronze eye palette and a couple of the darker shades of Sheer Lip Shimmer.
Here's an image of my eye palette: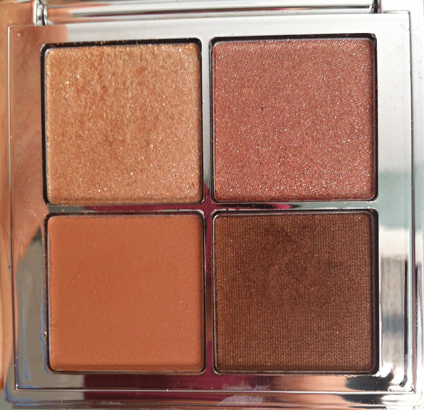 It features a Gold Bar Sparkle Shadow, Amber Shimmer Wash Shadow, Rich Bronze Eye Shadow (this is a metallic), and Toast Eye Shadow (a matte brownish peach). The Gold Bar is definitely too sparkly to use every day – it also has a lot of fall out so it's best to apply it carefully. I like to apply it when I'm going out and even then I'll gently pat it on with my finger only to the centre part of the eyelid. The other colours are perfect – Toast is a nice addition because you can blend it with any of the other colours to mute the shimmer a bit. Rich Bronze is perfect for the crease. The palette is $58 but I'm finding that I use it daily so it's worth it.
You can check out the entire collection online. It is also available at Holt Renfrew and Sephora.