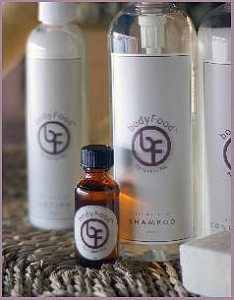 I'm a total fragrance junkie, and if there's one thing I love, it's scents that are mixed to your own liking and body chemistry.  To this end, I'm so excited to have found bodyFood, which has been around for ages but now has a new store in Toronto's Liberty Village so that it's accessible to more people.
bodyFood is run by Irene Spedaliere who actually has a pharmaceutical background.  After working at Sunnybrook hospital with cancer patients for about 20 years, she decided that she wanted a natural body care line.  She wanted something that was authentically natural and did aromatherapy, and she was finding that most companies used plain old fragrance in their aromatherapy blends, which isn't the same as using actual pure essential oils.
Irene decided to create a line that would do true aromatherapy.  She wanted to focus on the ingredients, not just on the smells because she knew how good the ingredients could be for different health conditions.
So Irene started making soap.  Her soap smelled good, she sold lots, and after 5 years, she quit her full-time job and started  bodyFood out of a high-end dentist's office.  She would scent the office and sell her blends to customers who came in.  Her line expanded from just soaps and it was meant to deliver aromatherapy treatment with every use.  There was a minimal use of preservatives and everything was made fresh daily.
After doing that for a while, Irene has decided to expand.  She's just opened her own bodyFood store in Liberty Village in Toronto and you can come in and buy already-blended products or book an appointment with her for a custom blend.
I gotta tell you, it's my own custom blend that I'm in love with.  Irene put it into a lotion form for me, and it's addictive!  I told her that I like woods and florals, and she mixed up a blend of cedarwood, sandalwood, patchouli, and neroli for sweetness.  It's perfect and totally different from anything else out there or anything else I wear.
If you live in the Toronto area and would like your own custom blend of aromatherapy scent, head down to the Liberty Village store.  Irene can put your scent blend into any form you like – lotion, body oil, shampoo, body wash, etc.
You can buy already-blended items from the bodyFood website!