This season's lotions are high-tech – they are non-greasy but intensely moisturizing and last forever on the skin.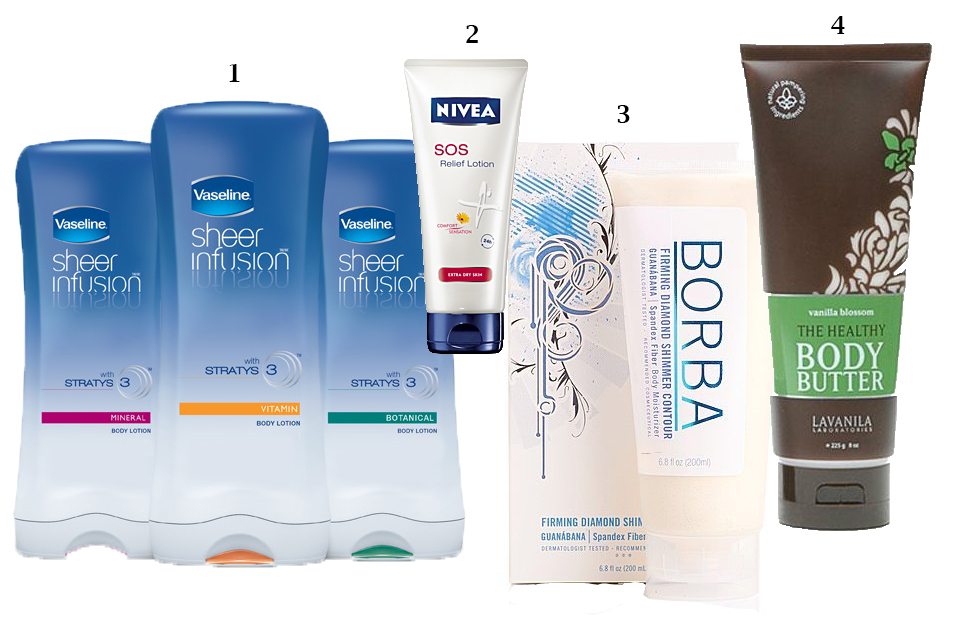 As much as we love fall fashions (sweaters, capes, and blazers, oh my!), the one bane of our existence is having to moisturize daily or ending up with skin that's scaly, itchy, and super dry. Luckily, there are options when it comes to solving that problem, and these days, lotions don't just use one ingredient to help you get rid of dry skin: they use several, and that means that they really work and can stand up to the harshest weather. Here are a few of our favourites:
1. Vaseline Sheer Infusion. This body lotion is available at the drugstore for less than $10 for a big bottle. The "sheer" part of its name refers to it sinking deep into the skin so that you don't end up with a sticky feeling on the surface on the skin. Used on a daily basis, this left our skin smooth and silky feeling and totally eliminated any dry skin that we were having. It's also said to deliver 2 times more moisture than the leading body lotion!
2. Nivea SOS Relief Lotion. Also available at the drugstore, what surprised us about this lotion is that it had an almost milky texture which meant that it was so easy to rub in! This is a true lotion and not a cream, so if you're the type that hates rubbing in a thick cream, then this is for you. It absorbs in a snap but lasts long, and even has Calendula oil which is proven to sooth irritation. The fresh scent is lovely and this drugstore lotion also retails for less than $10.
3. Borba Firming Diamond Shimmer Contour Lotion. At more than $30 a bottle, this is the most expensive lotion on our list, but we're not going to lie: we save this lotion for special occasions because it makes us look so fabulous, not because of the price. The Borba Diamond Shimmer Lotion is more of a thick cream but with the addition of mica and spandex, it sits on our skin and makes us look like Jennifer Lopez. If for no other reason, you must get this lotion for the holidays because everyone will notice how fab you look at Christmas parties. Oh yes, and it photographs well! Available at TheShoppingChannel.com!
4. Lavanila The Healthy Body Butter. Yes, we realize that this is a body butter, but it comes in a lotion bottle thus being easy and convenient to use, so we're including it in this list. Lavanila is one of the best body lines to come out in the last little while. All their scents mix Vanilla with another note and they all smell fantastic! We love this lotion because it has pure shea and cocoa butter as well as anti-oxidants. It's also free of preservatives and is a more natural way of moisturizing. You can get Lavanila products at Sephora.