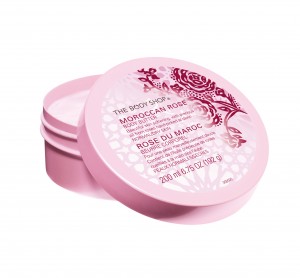 You know when you get a new perfume and you love it so much that it's all you want to smell and all you want to wear?  Well, that's exactly how I feel about The Body Shop's new Moroccan Rose line of products.  They are scented with a true rose perfume, and it's uber-light and ultra-fresh.
There's a full line of Body Shop Moroccan Rose products, including an Eau de Toilette, a body milk, shower gel, and home scent, but my favourite has to be the body butter.  It's moisturizing but non-sticky, and you can scent yourself lightly with the rose without it being overpowering or like you're wearing perfume.
This has to be one of my favourite scents this spring, and you have to head to The Body Shop to smell it for yourself!