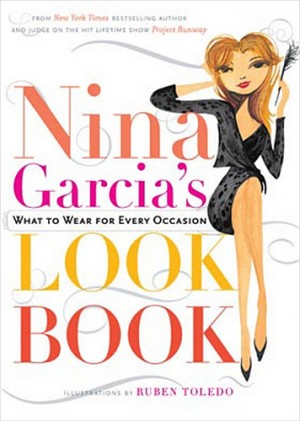 Nina Garcia is the Fashion Director of Marie Claire magazine, and has been a judge on Project Runway so she really knows her stuff when it comes to clothing and dressing for different occasions. She she says "what to wear for every occasion" she really means it, so this book is a must-have for any fashionista!
The book tells you what kinds of outfits to wear to work. Garcia doesn't just cover any day of work: she covers job interviews, your first day, a Tuesday, and casual day. The book is thorough to say the least, Garcia even tells you how to do your hair for different occasions (the first day of work calls for a blow-out).
Garcia also covers what to wear on dates, holidays, weddings, and when you travel. She has tips on accessorizing (she tells you what kinds of accessories you should wear to work!), what you should have in your purse, and even what kind of shoe you should be wearing. If you follow Garcia's tips you can get ready for any occasion and feel confident that you will fit in yet be unique at the same time. The lady also tells you what to wear to brunch with your friends!
If Garcia had her own newspaper column on dressing for different occasions, I'm sure this is the kind of advice she would give people. This book is the next best thing to actually having Garcia come and dress you herself. This book with help you brush up on your style, and will give you an idea of staples that you should always have in your closet.
I absolutely LOVE this book and am keeping it on my bedside table so that it's within arm's reach when I can't decide what to wear for any given social occasion.