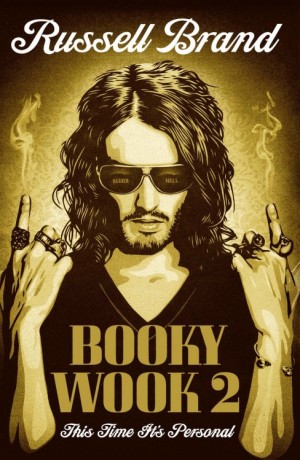 I have been a huge fan of Russell Brand for quite a few years now: before Forgetting Sarah Marshall, and before Get Him to the Greek.  Before he was even in movies!
So of course, I had to read his biography Booky Wook which was about how he kicked drugs so that he could focus on his career, and it was so well-written and hilarious that I didn't think twice before picking up Booky Wook 2: This Time It's Personal.
This book goes into how Russell rose to fame and broke through into the movie industry.  As can be expected, it has a lot to do with luck.  Someone found his great talent was already there and helped push him in the right direction, and Russell tells us exactly how it happened to him.  He leaves out the part about him being brilliantly funny, but I expect that he thought that would come out in the writing.
The problem with this book is exactly that the hilarious Russell Brand doesn't come out in the writing.  Good comedy is instantly relatable and transcends all boundaries, and the problem with this book is that it doesn't.  It is filled with so many colloquial British sayings that I'm sure the average North American reader is going to feel completely left out.  The book also has lots of inside jokes that I suspect Russell is making with himself and the book is so tangential that often Russell even forgets what he's talking about.
I suspect that this book was much more difficult for Russell to write because a lot must have been happening while he was writing it.  The book is filled up with actual snippets from his radio show and gigs, and I think that makes for some pretty weak plot points.
Booky Wook 2 could have done with a good editing and could have been made much shorter and just attached to Booky Wook 1 so that you got the whole story in one nicely written continuous volume, and even true Russell Brand fans will tire slightly of reading this book.  I enjoyed parts of it but parts of it were really rubbish, and so I would give this book a pass ifyou're on the fence about buying it.  You're not missing much.