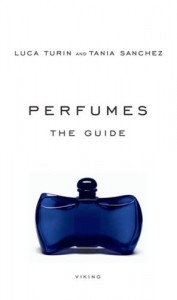 If you love perfume, you need to have this book.  It's really that simple!
Perfumes, The Guide is by Luca Turn and Tania Sanchez.  If you remember, Turin was the subject of Chandler Burr's book Emperor of Scent, and knows his stuff when it comes to smelling.
The book does not describe different perfumes, nor is it an encyclopedia of all the perfumes that are out there.  This is basically just a listing of perfumes, their non-literal description, and a rating on them.  It's a pretty excellent book if you want something that tells you good perfumes and why they are good.
I especially loved the lists at the back of the book that list the top 10 feminine perfumes, to 10 florals, top 10 masculines, top 10 feminine masculines, etc.  It's given me a long list of scents to discover and has taught me what to look for in good perfume composition.  Of course, you're not going to love all the top 10 scents, and I certainly didn't but it's a good starting point for finding the scent among all those that are released each year.
I got my copy on Ebay!