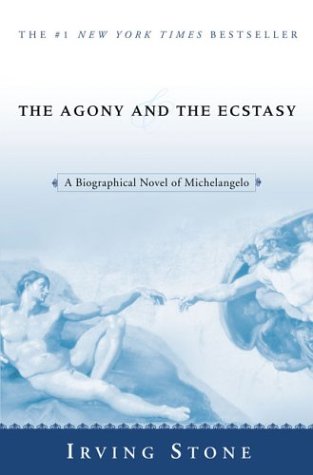 I just finished reading The Agony and the Ecstasy by Irving Stone.  I started this book in August after I got back from my vacation in Italy.  After seeing Michaelangelo's David, and the Sistine Chapel, it was just the thing that I needed to immerse myself in.
This book is fantastic especially for anyone that's an art lover.  It really goes into historical detail and tells you what Michaelangelo really would have been like and what his life would have been like.  I like that it not only goes into how his most famous works of art came about, but what his day to day life looked like and what trials and tribulations he had to suffer as a famous artist in the Renaissance.
I should warn that this is more of an advanced read.  The book is very dense and I found it to be difficult to really get into especially after all the super easy reads I read over the summer.
Still, if you have been to Italy and especially to Florence, I think you will really enjoy reading about one of their greatest art masters.