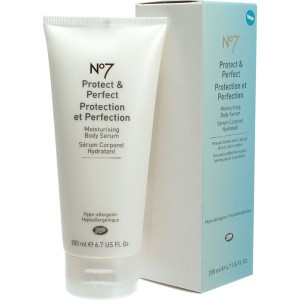 In 2007, Boots No 7 released their Restore and Renew face serum which achieved cult status.  It was the one drugstore product that sold out quickly, and when it came to Canada, it performed very well.  It remains a top seller to this day, and so to capitalize on that, Boots came out with a Body Serum.
I hate to say it but this serum is a bit of a "bandwagon" product.  I'm sure Boots hopes that because their face serum is so popular, their body serum will be as well.
Boots says that they have done studies concluding that using the body serum for 4 weeks led users to have firmer, smoother, and more radiant skin.  With Argan Oil and Hyaluranic Acid in the ingredients, there's no doubt that this serum will definitely moisturize your skin and thus improve its tone that way.  The body serum also contains antioxidants that help protect the skin from unnecessary aging.
Available at $29 at Shoppers Drug Mart, you too can use the serum and see if there's a major difference in skin tone and texture.
I, personally, did not enjoy using this serum because I found it to be slightly sticky.  I didn't like how my skin felt to the touch after using it, and it didn't provide the level of moisture that I'm used to.  I live in an extremely dry climate, and so a body butter or intense body lotion is more my style.  Even on very humid days, I didn't like the serum because I felt that it just got to be more sticky.  I might use it now and then because of its supposed effects, but I don't enjoy using it a whole lot. I did solve the stickiness factor by using less of the serum, but then I didn't feel as if it was moisturizing enough!
I did LOVE the scent that this body serum has and that alone makes it worth the $29 it costs.  It's a high end floral (rosewater/) scent that lasted longer than most of the summer perfumes that I've been reviewing.  Let's face it, though.  You don't buy a body lotion for the scent.