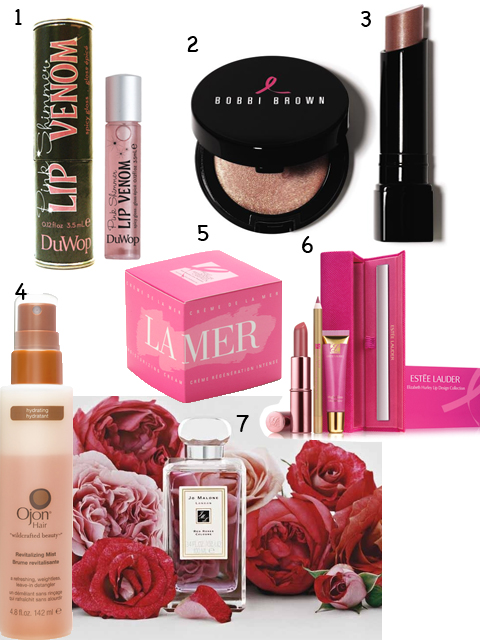 Yes, it's almost October which means that your favourite brands are going to be raising money to go towards breast cancer research. If you want a guilt-free way to treat yourself to something, now is the time – most companies not only have a specific amount that they're donating, but they will also donate a portion of the proceeds that their "pink products" generate!
We've picked some of our favourite products this year for BCA month. We love them because they are (or should be) staples and if nothing else, they are products that you definitely want to try!
1. DuWop's Lip Venom has become the gold standard for anyone who wants larger lips. For BCA they have a special pink shimmer Lip Venom, so if you already have the original, you have an excuse to pick up this version.
Duwop is giving a portion of proceeds from their Pink Shimmer Lip Venom to CEW's Cancer and Careers. This is a foundation that helps provide inspiration and insight to working women with cancer.
The lip venom causes blood to rush to the lips making them fuller and rosy in colour. Lip Venom contains cinnamon, wintergreen, and ginger and causes your lips to have a tingling or burning sensation. The Pink Shimmer Lip Venom is available for $19 at Shoppers Drug Mart BeautyBoutiques.
2. and 3. This year, Bobbi Brown is donating $35,000 in connection with the sale of their BCA package.
The BCA package this year includes a Pink Crystal Glitter Lip Balm (LE) and a Blush Pink Creamy Lipcolour packaged together in a box.
The set is on counters Oct. 1st (but if you're in a rush, you can probably pre-buy before hand). It costs $52 and Bobbi Brown counters are only at Holt Renfrew here in Canada.
4. I could go on and on about Ojon products but this time I won't. You can read my original review of their Revitalizing Mist here. You can get Ojon products at Sephora locations world wide and the Revitalizing Mist will be in a special pink box for BCA month. This will retail for $28 and Ojon is going to donate $35,000.
5. You know you've always wanted to try La Mer. Now you can try it with $30,000 of the sales of their Pink La Mer Box going towards Breast Cancer Research. 2 oz retails for $300, while you can get a large 16.5 oz for $1855. In Canada, La Mer is only available at Holt Renfrew.
6. Elizabeth Hurley Gift Set from Estee Lauder has shades of lipstick, lip gloss, and liner that were hand-picked by Elizabeth Hurley. The set comes in its own case, and also comes in colours selected by Evelyn Lauder. It will retail for a very affordable $30 at all Estee Lauder counters, and the company will be donating $100,000 in connection with those sales.
7. There's never been a better time to shower yourself with the scent of roses. We already love Jo Malone and what's great is that her iconic Red Roses bath oil and cologne will both be raising money for the BCA campaign this month. If you've bought the scents before and thought the cologne didn't wear long enough, give the bath oil a try – I found the scent to be a lot more lingering when I used it after the shower. 1 oz of the cologne retails for $70 while the bath oil retails for $72. Jo Malone will be donating 15,000 from the sales of these products. Jo Malone is only available at Holt Renfrew.