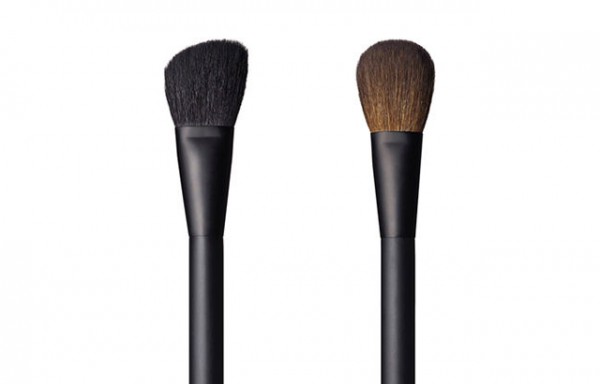 Nars has just revamped its brushes, and there are some amazing choices to check out.  I already owned a Nars Smudge Brush and Angled Eyeliner Brush ($32 each) and although they are the "old" versions, they are amazing.  I've never had any fall-out of fibers from either of them, and they're both so soft which is especially important of brushes used on the eye area.
From the new collection, I have the contour brush and the cheek brush ($47 each).  Without fail, I have to say that the contour brush is the best brush that I have ever used for contour (and I have used a few).  What this brush brings to the table is that it is soft but densely packed.  That means that when you apply contour powder under your cheek bones, it doesn't spread around too much and you can really have precise application.  This makes for a nice sharp contour instead of one that's too hazy and then ineffective.
The Nars blush brush is great too.  It has a small head but one that's still fluffy so that you can apply blush directly to the apple of your cheek but still blend it so that it looks like a diffused flush of colour.  Nars blushes tend to be pigmented, and this is the best brush to use with them because this brush tends to fit the pan nicely so that you can pick up just the right amount of product.  Most other blush brushes I've used are rounded but flatter than this one.  This means that it's a bit more difficult to apply a blended circle of natural-looking colour.  The Nars' brush is fluffier and rounder, almost globe-like (but longer and oval) and so it applies a blended area of blush very easily.
These are available at select NARS retailers (including Sephora, Hudson's Bay, Holt Renfrew and Murale) and www.narscosmetics.ca.