Changes are that if you haven't tried mineral makeup already, you will in the next year, and that means that if you don't own some already, you will, and then you'll wonder how you can put it on properly.
The trick, my friends, lies in the brushes. So, here are the brushes that you could use with your mineral makeup and the effect that you get with them.

I'll start with a Kabuki brush because it's the most common and chances are that whatever mineral makeup kit you're buying, you'll get one of these brushes free with it. The brush has densely packed natural hairs. Because there are so many hairs in such a small space, you pick up more pigment and can't play with it as much. This means that you get medium to full coverage when you use this brush. The handle is usually short so that you can sweep it all over your face easily. If you try the makeup on in the store, 9 times out of 10 the makeup artist will use this brush and make your skin look flawless. Once you leave the store, however, you may realize that this is too much for everyday, and if you have dry skin it may look overly powdery. It's all a matter of taste. A kabuki brush might really work for you too.

Kabuki brushes also come in retractable varieties which seem great for travel but aren't that great for application. They simply lack the heft and ease of use that regular brushes have.
And then there's this guy…

Commonly known as a skunk brush or stippling brush. This brush gives medium to medium-light coverage. This is the brush that I actually use to put my mineral makeup on because I like the control that it gives me. My coverage is not too heavy and I can always layer on more if I want to. I would recommend that beginners use this brush to play with their mineral makeup. It's better to start off with less foundation than with too much. You can also blend nicely with this brush and make sure that it doesn't look like you're wearing a mask.
Or you could use a brush that you probably already have and have had for a long time.
And that's a powder brush. Yep, don't knock this one, because it works too. The rule is that the fluffier and larger the head of the brush, the more lightly it will distribute powder. For this brush more than any other, look for something that is super-soft against your skin. A powder brush will give you light coverage. That is for people who don't need to wear a lot of foundation but just want something that will make them look finished and put together. I sometimes use this brush to put mineral foundation on top of regular foundation to give it more lasting power. You can also use this one for blending your mineral foundation.


You could also use a foundation brush but this will give you heavy coverage. Yes, that's what some people want, and so I'm putting it out there. A foundation brush is great if you have problematic areas that you really want to cover.
But what if you have those areas and they're really small?

Do what I do. Dip a concealer brush into your mineral makeup and put it on the areas that need more coverage – under the eyes, beside the nose, any spots you might have.  I am partial to the Hourglass Large Concealer brush because it's perfect for under my eyes and my chin, and I use a smaller brush to get into the corners of my face.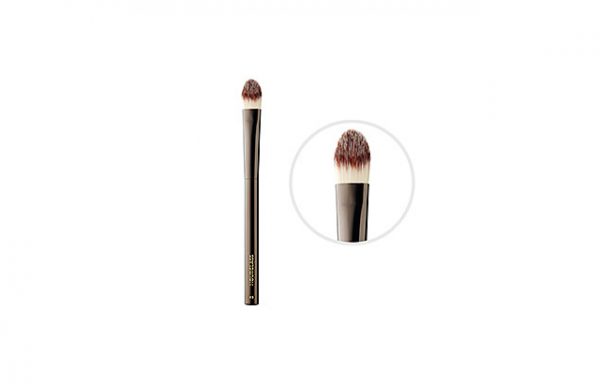 Then take your face brush of choice, and use it to put the mineral makeup on the rest of your face. Don't skip the problem areas – just blend the foundation over them too. This way, you get heavier coverage where you need it and light coverage where you don't!
Do you change your brushes often?  Do you have any favourites that I need to try?