This is my favourite Bumble and Bumble product right now and it's because it's perfect for my curly hair. I use this on my hair when it's wet, and it makes it so easy to brush through and style my hair. The spray has the perfect balance of slip and stickiness. It helps hair hold its curl, but also helps you style it better because of the fact that it makes your hair a bit slippery.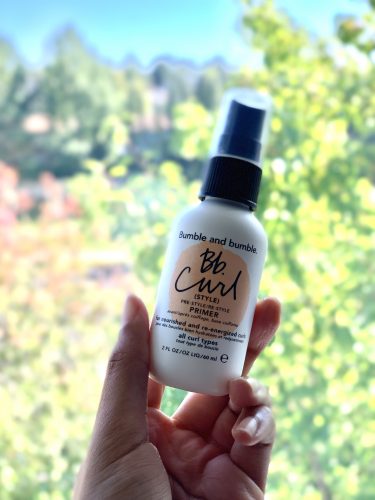 I wouldn't use this as a re-styler. When I used it on dry hair, I found that it made my hair super stiff and sticky and it just felt dirty. Even if I'm wearing my hair curly, it's just better to wet my hair and let it dry, or just wash it and start from scratch.
This is the first thing I put on my hair after washing it and then I follow up with a serum or thicker styling cream. My hair is dry and frizzy so it definitely needs more product. Bumble and Bumble's entire line of primers is meant to be the first step in your styling routine, so use them as such. They prep the hair for more product and further styling.
I'm holding the smaller size of the primer, but a full size is $37. Available at Sephora and salons.