I kind of stan Bumble and Bumble these days.  They're a brand that my salon carries, and they hook me up with little samples every time I go, and I've even been getting curbside deliveries from them, so I've kind of gotten into the brand.
Most recently, Bumble and Bumble launched the Bb Color Gloss and with all of us stuck at home, it honestly couldn't come at a better time.  The idea behind the Bb Color Gloss is that you can refresh your hair color without taking the trouble of dying it.  It kind of seems to work in the same way as a toner or semi-permanent hair dye, and whatever color the gloss imparts will was out in 3 days.  That's less than a week for me because I wash my hair every day.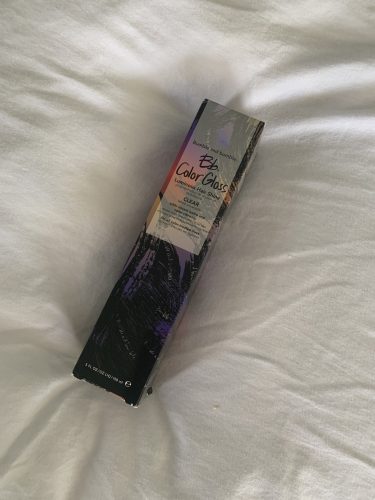 The Bb Color Gloss comes in 5 colours: clear, cool blonde, warm blonde, brunette, and red. I wanted to try the cool blonde to tone my highlights, but it was out of stock when I was ordering so I got the clear instead just so I could try it.  Bumble and Bumble says that the clear gloss will add shine to your hair, so I had to try it. My hair is pretty shiny but the bottom can look dull and damaged so I thought I would try this.
As you can see, the Bumble and Bumble Color Gloss comes with a pair of gloves which is awesome.  You will definitely need those if you're applying dye to your hair.  They're actually pretty sturdy gloves, so I found that I could apply the gloss to my hair using those every time that I did it.
The gloss went on clear and was super easy to apply.  I only applied it to the lower half of my hair and put it in a bun while I waited for it to work.  I had to leave it in my hair for 20 minutes, and then wash it out with shampoo.
I honestly didn't notice that much of a difference in my hair after using the gloss.  Actually, after the first time of washing, I felt like my hair was frizzier and drier than ever, so it didn't seem to do anything good for my hair.  After the second wash, things were better, but my hair definitely seemed to be doing much better after the third wash.  Ironically, I think I ended up washing out most of the gloss with the Bumble and Bumble Sunday shampoo which is the most potent shampoo in their line, and one that I would normally not use if I had color or toner in my hair.  I had enough of it left for just 1 shampoo, so that's what I used and my hair was back to normal.
Even though I didn't have a great experience with this, I'll still try the cool blonde version and I think it will work to get the brassiness out of my hair!  I think if you're going to put a gloss in your hair, the effects are just better if you're using one with colour.  It can tide you over until you see your actual colorist to get your hair done.
$42 in salons and online.