I'm so glad that air styling your hair is making a comeback even if it's only momentary. I've always liked air styling because it is easier and more gentle on already dry hair. The key for me has always been to use lots of product and to layer with something moisturizing so that my frizz is taken care of.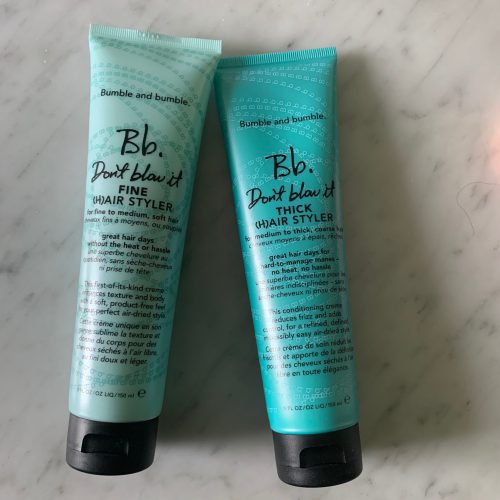 So I've been trying out the Bumble and Bumble Don't Blow it (H)air Stylers. There's one for fine hair and one for thicker and coarser hair. As predicted, the styler for fine hair is lighter than the one for thicker hair which is creamier.
I have fine hair – but it's also curly and rather frizzy. The light Don't Blow It wasn't enough for my hair. My hair looked really dry when I used it. I loved the Thick (H)air Styler.  It gave my hair hold, calmed the frizz, and just made my hair look good.  I'll be reaching for this regularly, and especially when I'm not going to be straightening or blow-drying my hair.  It's a very nice cream for dry and frizzy hair.
Available at salons and Sephora. $21 each.