I've been on a bit of a blow-drying bandwagon this month. I think there's just something about wearing winter hats that makes me want to be more polished, and have nice smooth locks, which takes a lot of work for someone with curly hair. So I've been test-driving all kinds of treatments before I blow-dry my hair to see what works best for it.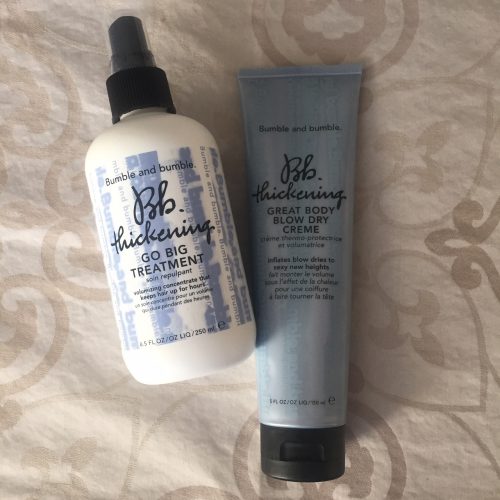 To be honest, I think the best thing is just not blow-drying. I really like my hair to air-dry mostly and then go through it with a straightener.
No matter what I'm doing though, I'm liking the Bumble and Bumble Thickening Go Big Treatment ($34) which is a new addition to their Thickening line of products. It's perfect for people like me who have fine hair. I spray it on my roots (just like I've seen my stylist do) and then blow-dry with a round brush trying to go away from the roots. The result is a lift and thickening of hair that really seems to last and last. And the best part is that it feels natural and fresh and not crispy like some volumizers can.
If you have dry hair then there's also the Thickening Great Body Blow Dry Creme ($38) which is emollient but also has some hold and gives hair some weight. So it's volumized but not as fluffy as it would be with a spray. I found that just a tiny amount was what I needed for my hair, and it had enough hold that it made blow-drying easier than it were usually.
Oh, and if you're really into bigger hair, you could use the Go Big Treatment before the Blow Dry Cream and really get your hair to stay.
Available at salons and Sephora.