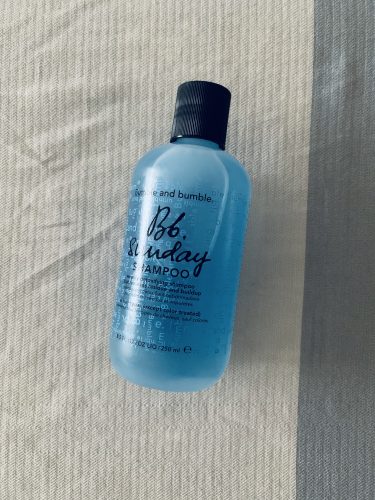 I love the idea of Sunday Shampoo.  Sometimes you need something that's entirely cleansing and refreshing on your hair, without any moisture or extra ingredients.  It's when your hair is filled with hairspray and dry shampoo and you need something major to get it all out.  Or maybe you're the type of person who's aiming to wash your hair just once a week – that's when you need the Sunday shampoo.
This is a high foaming, completely cleansing shampoo that gets everything out of your hair.  I often put oil as a pre-conditioner in my hair, and when I do that, this is the only shampoo that can get it out in the very first try.  I'll need to use two or more rounds of any other shampoo, but with the Sunday shampoo, I get tons of lather that washes everything away the first time.  It also leaves your hair smelling fresh.
Everyone needs this in their bathroom.
$34 at salons, Sephora, Nordstrom, and other places where Bumble and Bumble is sold.