I've found another favourite Bumble and Bumble shampoo and conditioner duo.  My first favourite is the Invisible Oil Shampoo and Conditioner, and I can't get enough of the warm scent, but the Bumble and Bumble is a close second. It is perfect for when you don't need to really add a lot of moisturizing to your hair.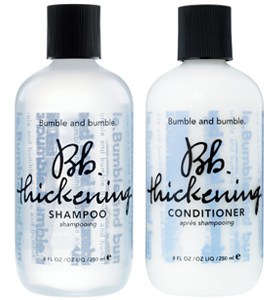 What I love about the Thickening Shampoo is that it washes totally clean and lets your hair have a lot of volume.  The Thickening Condition has slip but isn't heavy or thick itself.  It's great for detangling fine hair and then it washes clean.
If you've used the iconic Bumble and Bumble Thickening Dry Spun Texture spray then you know how this smells.  Kind of fresh and dry at once.
$28 for the Thickening Shampoo, and $30 for the Thickening Conditioner.
Available online or at salons.