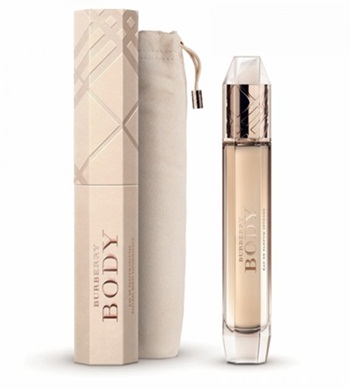 Burberry Body is the latest release from the ever-popular brand, and I'm sure you've noticed the ads which feature Rosie Huntington-Whitely in a Burberry Trench and nothing else.  Body capitalizes on the skin-like scents that are so popular this season, and the name even evokes how they want you to think of this scent. I read somewhere that this scent was supposed to be like cashmere against skin, but I'm not sure they really accomplished that goal.
Burberry Body is wearable, but so loud that it's really not a skin scent.  It's so strong that it really announces your arrival rather than hinting at your presence.
Body has notes of peach, freesia, rose, anise, musk, woods, and vanilla.
The scent starts off loud and very fresh with the pear and freesia, but slowly dries down to the rose middle notes, and finally the musky-vanilla base that's not too sweet.
As you can probably already tell, I'm totally on the fence about this fragrance.  I don't like it, but there's nothing wrong with it either.  It just smells too loud for me.
Have you checked out Burberry Body?  What did you think?