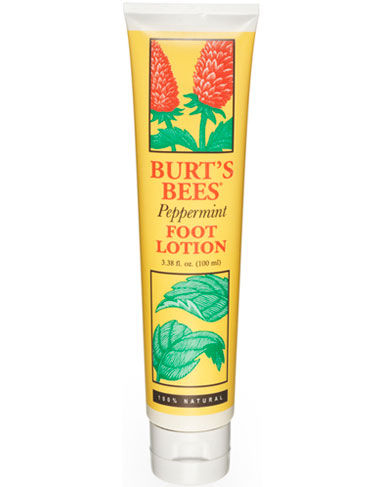 Burt's Bees Peppermint Foot Lotion is a fantastic treat for tired, achy feet.
Okay, I know how that sounds, because almost every foot cream and lotion claims to be just that. And if you've tried foot lotions, you know how they usually are: really thick, ultra hydrating creams that while helpful with softening the tough dry spots on feet, usually leave feet feeling sort of slimy for a few hours and rub off on all surfaces if you don't wear socks.
The Peppermint Foot lotion isn't like that at all. The lotion contains a botanical blend of oils made from witch hazel, tea tree, parsley and rosemary. It also has baking soda extract, peppermint oil, and menthol in it to neutralize mild foot odour while having the added benefit of feeling amazing on tired, aching feet.
It also contains wheat germ and coconut oil to help soften calluses and the signature ingredient of Burt's Bees, Beeswax, helps to seal everything in. It's amazingly non-greasy for a foot cream, absorbing relatively fast and leaving a nice, minty scent behind.
It's absolutely perfect for summer because it doesn't leave feet feeling overly moist. Instead, the menthol imparts a tingly, cooling sensation that feels amazing on hot, tired feet.
That said, it is extremely minty, so be careful not to touch your face or anywhere near your eyes after use.
As with all Burt's Bees products, it is created sulphate, paraben, phthalate, and petrochemical free. The 100ml tube is around $9CDN where Burt's Bees products are sold.