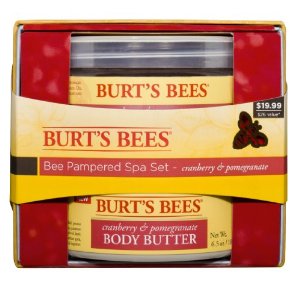 Yes, it is possible to get good holiday gifts at the drugstore, and I'll show you the ones that I wouldn't mind getting myself because they're so luxurious.
Check out the Burt's Bees Bee Pampered Spa Set in Cranberry and Pomegranate.  This set has a well made sugar scrub (that smells divine), and a lovely body butter that is so smooth and absorbent that you'll be looking for  reasons to apply it.  Plus you know that the products are made with natural ingredients so get this for the earth lover in your family.
Plus, this entire set is less than $30 (which is more than what you'll pay for just the scrub alone at a fancier place, but since it's just sugar and oil, why bother?)
Pick this up at Shoppers Drug Mart.