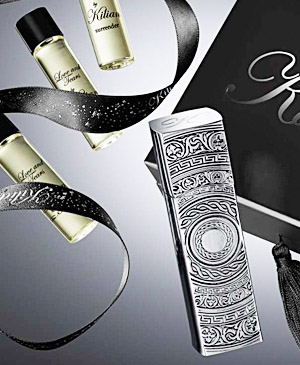 Limited edition sets are wonderful presents to give collectors, and we're especially loving a new one offered by popular niche brand, by Kilian (available at Holt Renfrew).
The thing about the Kilian brand is that all the scents are quite expensive, due in part, to the fancy heavy glass bottles and the velvet lined boxes that they come in. A more economical way to try the scents is to order the travel sets.
The holiday travel set is made out of silver and meant to be used for a lifetime. The case has Kilian's signature Achilles shield motif in black enamel on one side, and shiny silver on the other. It also contains four .25oz vials of fragrance and will be available in the following scents: Love, Love and Tears, Dangerous Liasons, Straight to Heaven, and Back to Black (my favourite), and Rose Oud.