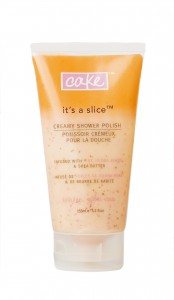 We love Cake Beauty because their products are fantastic moisturizers and smell good (no joke, we have been stopped on the street by women who want to know where they can get that yummy-smelling lip balm!).
Lately, they have re-vamped their Creamy Shower Polish so that it's richer and creamier than ever, while still providing a soft polish on the skin.
If you're looking to give your skin a kind of healthy glow, then exfoliating heavily is the quickest way to get there. You need to slough off dead skin, especially if you've gotten some sun this summer. Get a scrub that's moisturizing and smells good, and then use it daily for a week. At the end of the week, you'll notice a big difference in tone and texture, that I bet you didn't know you could achieve.
Grab this at your local Sephora (if you're in Canada) or head over to CakeBeauty.com and order it online.