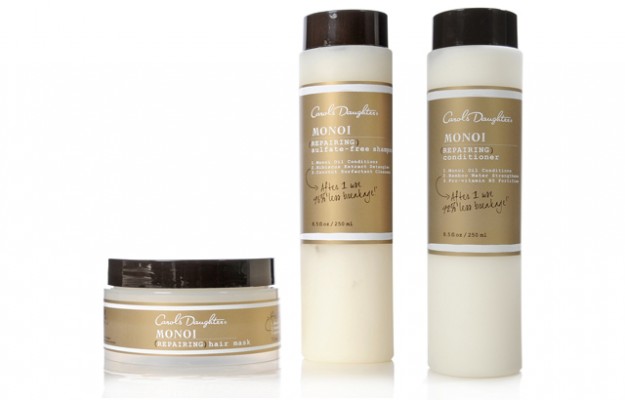 Carol's Daughter is a brand that I've been dying to try ever since it launched.
The company was started by a woman named Lisa Price.  Lisa had a talent for mixing oils and other natural ingredients to make lovely goodies for skin and hair.  She got so good, that people came to her house to buy her products and she became a cult cosmetics fixture in Brooklyn.  Throughout it all, her mother – Carol – kept encouraging her to do her thing.
When Carol's Daughter opened its first store in Brooklyn, it was super successful, and even celebrities became loyal clients – and investors.
I tried the Carol's Daughter Monoi Repairing Conditioner, and the Monoi Repairing Shampoo and Mask.  All the products are sulfate and paraben free, and are very moisturizing so they're perfect for dry and damaged hair.  The one thing that I was disappointed in was the ingredient list – though the list says that there are natural oils in the products, the oils are listed after fragrance.  You need a tiny bit of fragrance to scent each product, and so that means that there's an even tinier amount of hydrating and repairing oils.
The formulations, however, are good.  After using the set for 2 weeks, I've found that my hair does indeed break less, and I can notice that it's in better condition than when I wasn't using the line.  Although the shampoo is sulfate-free, it still lathers a LOT, and washes clean.
The conditioner and mask seal in moisture, although I have to say that I didn't notice the mask being a great deal more hydrating than the conditioner.  The mask is thick and really stays in your hair until you rinse it out, but in terms of treatment, it gives about the same as the conditioner, and I actually found myself reaching more for the conditioner because it was easier to apply.
Has anyone tried Carol's Daughter products already?  If so, what did you think?
This shampoo is available for about $21, available online.