I was lucky enough to have my hair styled by Alain Larivée, Canadian creative consultant for John Freida and co-owner of CAJH Maîtres Coiffeurs in Montreal. Larivée has styled the likes of Shannon Tweed, Laney Liu and Nina Dobrev (I have a huge girl crush on her, and he says she's the sweetest ever).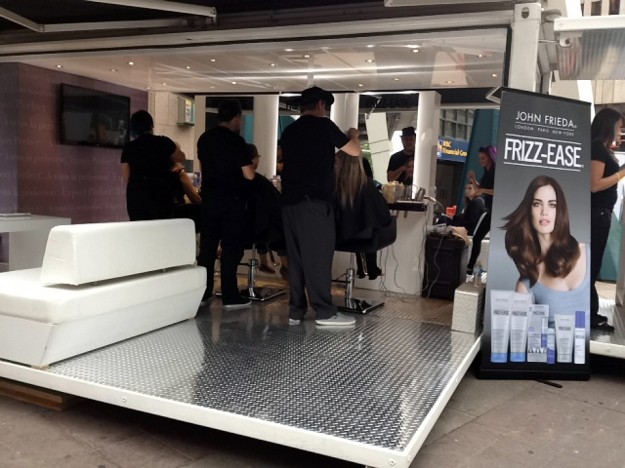 My star struck girl crush info aside, I wanted to ask Larivée for some summer hair tips since it seems to be difficult to have pretty hair when it is so hot outside.  Larivée recommends braids this summer for a pretty, comfortable way to keep hair off your face.
He was kind enough to demonstrate the look on me, so that I could see how a pro would do it, and here are my tips for you.
1. Larivée sprayed my 2-days dirty hair with John Freida Luxurious Volume Anytime Volume Refresher to help absorb some of the oil from the roots and re-volumize my hair.
2. Next he sectioned off the back half of my hair from behind the ears and clipped it up to keep it out of the way before braiding the front section away from my face and down behind my ears on both sides. Tie the braids off with little elastics (these don't have to be perfect, as they'll be mostly hidden).
3. My hair doesn't hold curl that well, so next, Larivée misted my hair over with Sheer Blonde Crystal Clear Hairspray, his hairspray of choice because it's a non-yellowing hairspray. Then, taking 1-inch sections of hair at a time, he used a curling iron to curl the rest of the non-braided hair, and then the ends of the braided sections. To get this kind of curl, he also wrapped the hair around the barrel of the iron, instead of using the clamp.
4. After the hair cooled, he used a boar bristle teasing brush like this one to brush through the curls, loosening the ringlets into softer waves.
5. The two braids were wrapped around under the curled hair, and pinned with two crossed bobbi pins. Everything was misted over with John Fredia Frizz-Ease Moisture Barrier Firm Hold Hair Spray (the clubbing hairspray, according to Larivée!) and a light application of John Fredia Frizz-Ease 100% Shine Glossing Mist.
6. To finish off, he used the Full Repair touch up flyaway tamer to clean up all the baby hairs and flyaways around my hairline.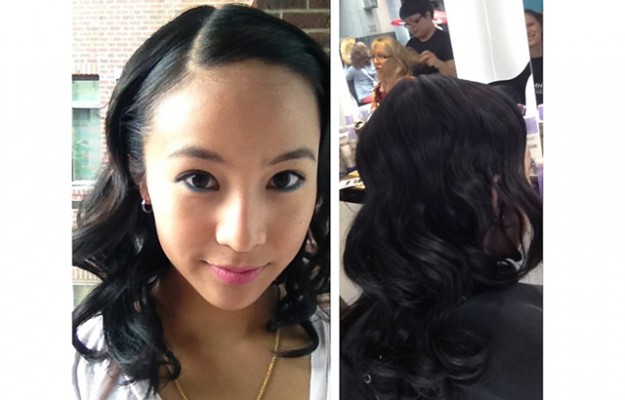 And there you have it. Gorgeous, frizz free, summer hair!