The best cleansers are gentle enough for sensitive skin and take off all your makeup – and guess what, Cerave Hydrating Cleanser falls into that category.  You've probably heard all about Cerave – it's highly recommended by dermatologists, and when I posted about it on Instagram, so many people commented or messaged me saying that it was the one that they used and it really worked for their skin.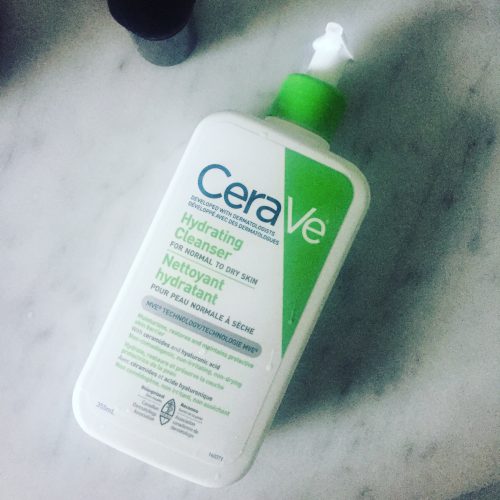 This is a super basic cleanser.  It doesn't foam and it doesn't offer anything fancy to leave on your skin.  And that's just fine with me, because cleanser is something that you're just washing off – literally, it's going down the drain, so you don't need it to be fancy.
The Hydrating Cleanser is a gel consistency that's creamy.  It has slip in it and enough moisturizers that it melts makeup – mascara and eyeliner are gone in seconds, as is long-wearing lipstick.  If it gets in your eye, it won't sting or hurt, and after all is said and done, it washes off without stripping your skin.  That's why people love it.  It's most of a light lotion then a traditional cleanser, and it's formulated with ceramides which help nourish but also melt everything off.
I like to wipe it off with a wet cloth, and then sometimes follow up with a foaming cleanser.
One of the best things about Cerave is that it's available at drugstores.  $14 at drugstores.