If you're looking to start with retinol on your skin and you've never used it before, then going for a drugstore retinol product might be the way to go.  Drugstore products don't have as much retinol in them – in fact the percentage of retinol is never even listed on the tubes.
That's the case with CeraVe's Skin Renewing Cream serum.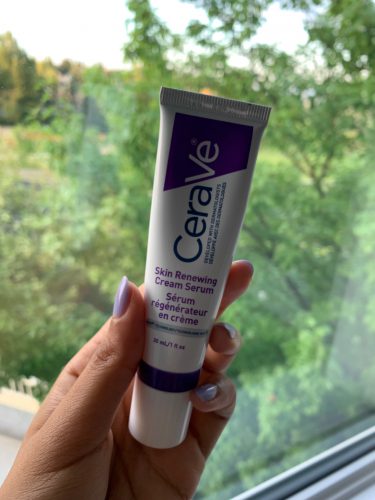 Retinol is blended into a light formula of ceramides – present in all of CeraVe's products.
For me, this is the perfect summer product.  I already have oily skin so I don't need a lot of moisturizer on it, and this serum is nice and light.  It absorbs into my skin easily and works for morning or night.  If you have dry skin, you could layer a heavier cream on top, but I find that I don't need it.  I do put sunscreen on in the day and that's pretty moisturizing so it's doing the trick.
$15.99 at drugstores and mass merchandisers.