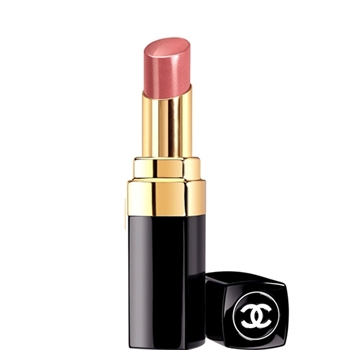 I used to have a bit of a debilitating Chanel lipgloss addiction, so I've sort of steered away from that counter for a while. But the other day, I was at the counter getting a Valentine's day present and happened to see this delicious, limited-edition offering; the Rouge Coco Shine lipstick #54, Boy.
It's a very sheer, hydrating lipstick with a super light texture. It was a bit of a love at first sight lipstick for me, because it's that gorgeous rose colour that looks good on everyone, and can be worn anywhere from work to a first-date. It has tiny golden flecks of shimmer in it, which makes it look fabulously shiny on lips, but not glittery (horrors!) I love that this is date-night worthy; it enhances lips, but is still natural enough that it won't scare your man off.
The Rouge Coco Shine lipstick also has a hydratendre complex that hydrates and softens lips. The formula actually reminds me of YSL's Gloss Volupte, for those of you who have tried that. Like the Gloss Volupte, it's not extremely long wearing. I found I got about 2 hours out of it before I needed to reapply, and that was without eating or drinking anything.
Chanel Rouge Coco Shine Lipstick goes for about $39 where Chanel Cosmetics are sold. Rumour has it that this is going to be pulled after Valentine's day and re-launched in March with the rest of the Rouge Coco Shine Collection, which I'm definitely looking forward to. You may be able to still find it at Chanel counters but I'm guessing that will only be until they're all sold out.