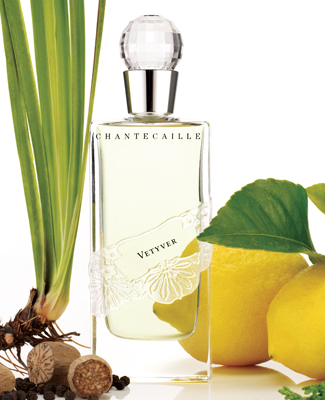 Chantecaille is an understated beauty line out of New York, created by a woman who's a veteran in the biz.  The line focuses on providing luxurious products and has a clean modern aesthetic.  Stop by the counter at Holt Renfrew and you're going to see pretty palettes with easy to use colours in them.
Off to the side is Chantecaille's line of fragrances which has been rereleased this past year, and has something for everyone – by that I mean, there's a gourmand, a floral, some herby scents, and some that are deeper and more mature.
The one that caught me by surprise is Chantecaille's Vetyver.  Though this scent has notes of citron, pepper, nutmeg, bergamot, vetiver, musk and sandalwood, this is a scent that I can only describe as a true Vetyver because it smells just like real Vetyver in India.
Let me back up for a minute.  Vetyver is a grass that grows in India.  Of course, distillations of its scent are not going to smell like this perfume, but when you smell Vetyver in India, you also smell all the other scents in the air – this includes spices, such as pepper, as well as musk and sandalwood which are popular with the Indian population and used in everything from body lotion to laundry detergent.
So, when I say that Chantecaille's Vetyver smells like Vetyver in India, I mean that it has all the notes that are in the Indian air when you smell Vetyver.  Vetyver by its nature has a grassy herbacious yet fresh scent that's masculine yet light.
This Vetyver is being marketed as a feminine fragrance but I would say that it's truly unisex.  It's an elegant composition and well balanced.  The musk and woods really warm it up, while the bergamot that you smell right at the beginning makes it a fresh scent and reminds me a little of most masculine scents that are out there.  This perfume has great sillage – you can smell it on yourself the whole day even when you only wear one spritz.  It also lasts a very long time which is fantastic for a scent that's this light.
You can pick up Vetyver and check out the other Chantecaille scents at the Chantecaille counter at Holt Renfrew.