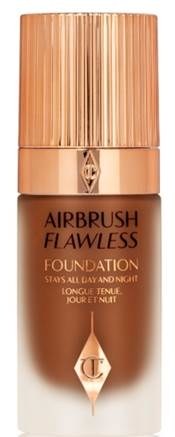 There are so many new foundations this season, but this one is definitely my favourite.  It's Charlotte Tilbury Airbrush Flawless Longwear Foundation – I'm colour 7.5 warm or neutral.  Mostly, I prefer warm, but the colours are so close together that the neutral shade works for me too. Here's me wearing the shade 8 warm – there's no filter or any retouching on this picture – and I think that even though the foundation is a touch too dark, it looks very natural.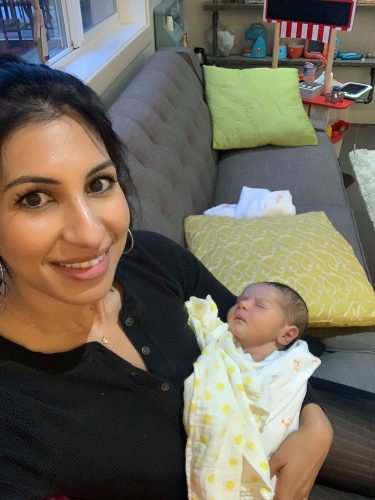 This foundation has a thin texture and enough slip that it would work for any skin tone.  After moisturizing, this doesn't amplify any dry spots but it also lasts through oily skin.  So it really does last the whole entire day.
My favourite thing about this foundation is that it is highly pigmented but it goes on looking like real skin, which is key for a medium to full coverage foundation. It makes skin look poreless, refined, and healthy!  You can see your freckles through it if you want, or you can cover them all up.  The best part is that if you want high coverage, you don't need to use a lot.  I dab it on with my fingers, and then smooth it in, but a Beauty Blender would work too.  I don't like using a foundation brush with this one because it's too thin and I seem to use way more product.  I like using my fingers because I can just smooth it in and get coverage where I need it – like on my chin and around my mouth.
There are lots of shades available – 44 to be exact – and they come in warm, cool, and neutral shades and I found that more than one shade worked with my skin – which is a good problem to have.  I could match a natural colour to my neck, or use something lighter for my cheeks or to highlight.  I think that maybe this is my favourite foundation ever because of how natural it looks and it even photographs amazingly well.
Pick it up at Sephora and other department stores.
$53.