I'm sad to say that at $80 this was a splurge for me, and although I liked using it, I haven't used it as much of my drugstore highlight and contour products.  Love luxury makeup but sometimes… it just doesn't get that much use!  Read on for the review.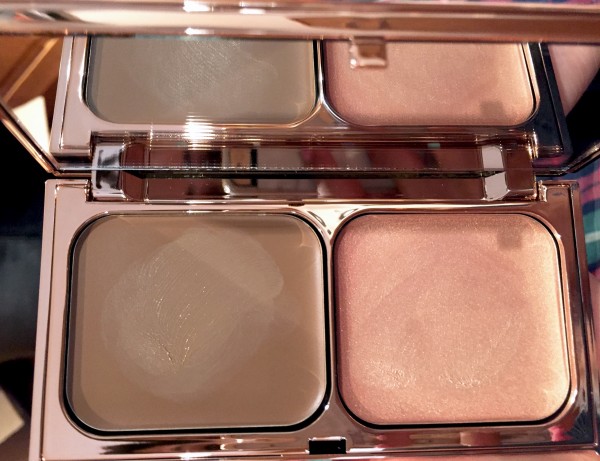 One of my splurges  has been Charlotte Tilbury's cream version of her very popular Filmstar Bronze and Glow.  It's her contour duo that helps shape the face and highlight the high points.
Charlotte Tilbury is a celebrity and editorial makeup artist who helped put together the Tom Ford line of makeup.  Last year she came out with her own line, and it seems to be a well put together edit of products that promise to make you beautiful without spending too much time in front of the mirror.  I love that she promises that everything will be easy, and her smudgy sexy rock and roll aesthetic appeals to the mom in me who loves a smoky eye but without lots of time to execute it.  I've been wanting to try her contour duo because contouring has become a part of my routine, if only for the weekends.
Of course, I researched the heck out of this before I bought it, and I have to tell you that not all the reviews were good.  Many people said that it was too greasy or too emollient and that it wasn't as good as the powder.  I could see that the texture was different, but I wanted a cream contour, and what really sold me was the shade of the contour colour.  It just seemed like such a perfect natural shadow colour – a perfect mix of grey and brown, but mostly brown – that I knew it would work for me.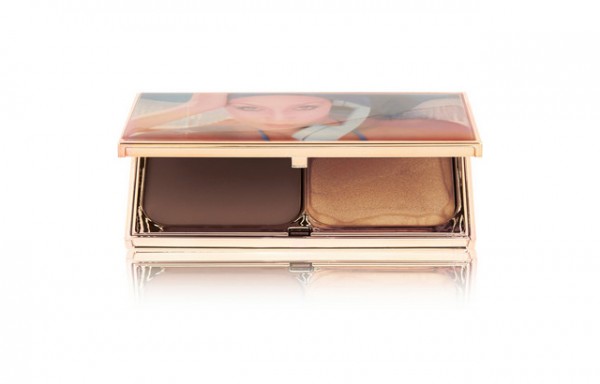 The cream Filmstar Bronze and Glow only comes in one colour, but the highlight is gold, so I knew it would be perfect for my yellow-based medium-toned skin.
Truth is that yes, this is a very emollient product – especially the contour colour – but that makes it very easy to use.  I pat it on with my fingertips and then blend it out.  Sometimes I powder my face, and sometimes I don't and the wear of the product completely depends on it.  The highlighter is a little more powdery and on the glittery side.  It's not a product that looks at all natural, but it's great for a night out – it's definitely not something I'm wearing for preschool drop off!
For $80, I do wish that the products were more long-lasting and that the highlighter was smoother, but I've had this for the past month and it's staying in my makeup kit, so that means that I kind of love it.
I'm not that into the Norman Parkinson packaging and would have liked something more chic, and I don't think that this is going to be a permanent product, so if you're into a cream contour duo, pick this up while you can. I am intrigued to try other products from the brand and will be picking them up as I find them!