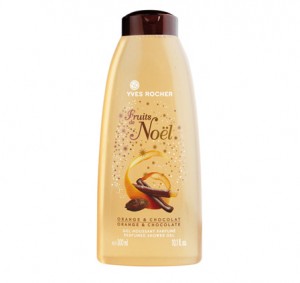 I'm coming to really love Yves Rocher. They have the best nail top coat that I have ever used, and then they come out with a lovely Chocolate Orange scent for the holidays. I cannot get enough!
The scent comes in a variety of products: shower gel, lip balm, hand cream, body lotion and eau de toilette.
My favourite is the shower gel because it smells so yummy but the scent isn't too sweet and doesn't last on me for very long.
Also, you must try the lip balm. It is hands down the best lip balm I have used in a long time. It's better than Burt's Bees, better than Fresh Sugar balm, and better than L'Occitane. I know!  How is that possible? I don't know, it just is.  The balm goes on really smooth and just hydrates without coming off or making lips even drier.  It doesn't have a taste so you can't lick it off and make your lips even drier which is a plus.  It just works and I have one at work and one at home so that I am never without it.
Both products are part of their Fruits de Noel collection and can be purchased online or at an Yves Rocher store. They are the best value I have seen all holiday.  The lip balm is $3 and the shower gel is $5.  Together they cost less than products you might get at the drugstore!
They also have all the products in a Orange and Almond smell which is not as yummy but satisfyingly Christmas feeling nonetheless.