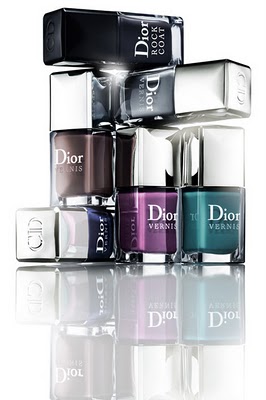 This spring, Dior launched a new collection of nail polish shades and a special edition Rock Coat.
The polishes come in just 5 colours:
704 Nirvana – deep turquoise
887 Purple Mix – sultry purple
804 Perfecto – cool slate grey
997 Blue Label – edgy navy
824 Underground – rich brown-taupe
Each polish retails for $24 and the Rock Top Coat is $22.
Here's my swatch of Blue Label which a lovely super dark blue that is the colour of very dark blue/black denim.  I put 2 coats and had just the right amount of coverage.  The colour is chic and easy to wear.  The polish is very long-lasting and I had no trouble with it, when I used the Stickey base coat (by CND) and my Seche Vite top coat.