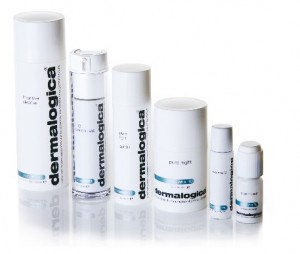 This season, we've mentioned many whitening lines that have come out and some of them work because they've got prime ingredients in them.
Me, I'm still a fan of glycolic acid when it comes to evening out skin tone, but I've been trying more products with vitamin C in them too and for the most part, the products have been good.
There's been nothing, however, like ChromaWhite Rx by Dermalogica.  I got the trial package that included mini sizes of all the products, and after using the products for 1 week I noticed an immediate difference.
It's been a month now and I'm done using the set – I only have some of the cleanser left and I'm still using it.  All the products have active ingredients in them which means that at all times, there's something at work on your skin to make it more even.  If you're deciding which products to get, the only one that I think are unnecessary are the cleanser and the sunblock.  It's not that these products aren't good – it's just that they're not revolutionary and aren't going to do anything that drugstore products can.  The cleanser has lactic acid in it but it's not going to be on your skin long enough to make a difference, and the sunscreen has a whitish tint that might not look good on everyone.
You can get Dermalogica products at high-end spas or dermatologists' offices.