There's going to be a time when Ciate isn't going to be autocorrected in my iPhone, because the nail polish brand is going to be that popular. I'm that bowled over by this brand.
Ciate Paint Pots are a nail polish brand from England and their claim to fame is doing Adele's manicure for the Grammy's. The brand is going to be at Sephora stores later this year, so get used to hearing about it. Not only is it going to be everywhere, but the formula is to die for, so people are going to be talking about it.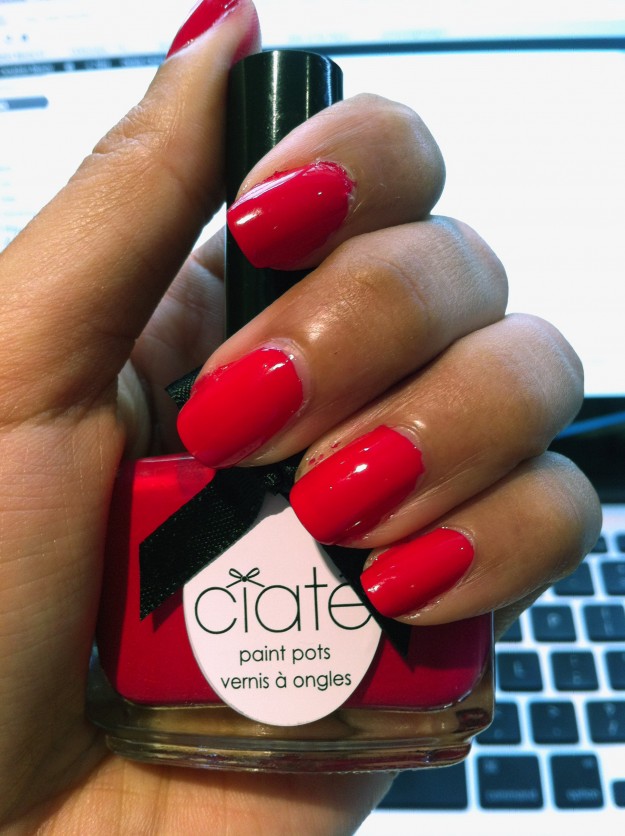 Ciate's formula is thick, rich, and full of pigment. I tried the polish in a colour called Knickerbockerglory, which is a fuschia pink that verges on red. It is really bright and pretty! The colour goes on without any streaking and just one coat is enough to give you full coverage. I, of course, put on two coats, but I assure you that I could have gotten away with just one.
The polish lasts and lasts and looks super pretty and shiny.
Right now, if you want to get your hands on Ciate Paint Pots, check them out on eBeauty.ca. At $14 each, these cost more than your usual OPI polish but I think that the formula and wear make it worth it.