As many of you know, I have tried tons of different kinds of home haircolour products without finding one that is a holy grail.  The closest I came was definitely Clairol's Perfectly 10 because it was easy to apply and coloured my hair really quickly.
I had tried Clairol's Natural Instincts hair colour in the past but didn't love it because it was a semi-permanent colour, which just meant that I was dying my hair more often!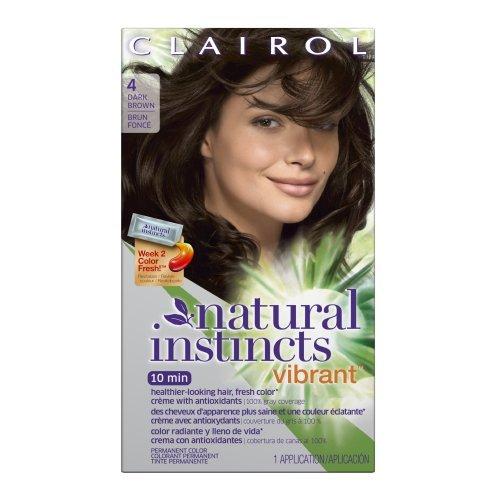 Now, they've come up with Natural Instincts Vibrant which offers the same 10 minute setting time as Perfectly 10, and the same "natural" ingredients as Natural Instincts.  I put the natural in quotation marks because it's hard for me to believe that any natural colour besides henna could actually dye your hair for the long term, and I doubt that there's a high percentage of natural products in Natural Instincts.
Anyway, on to the review.
I have to say that this comes really close to being a holy grail product.
Natural Instincts Vibrant is a really thick mixture which makes it perfect for applying to long hair because it does not drip at all!  The thickness also means that the product applies just where you need it to, and because it's easier to apply, it's also way quicker to apply.  The best part of course is that you have full coverage in just 10 minutes.  I set the timer after I had finished dying my whole head, and really, I only let it go to 7 minutes before I got in the shower.  I still ended up covering the grey that I had, and my colour was bright and vibrant as promised.
So if it was so great, why isn't it my holy grail?
Well, I used the darkest brown colour, and I gotta say that it's pretty much a black which is not the look that I was going for.  This was just way more dark than I wanted to go, and I wanted to be a tiny bit lighter in the summer.  The next colour down is a medium brown which will likely be too light for me!  I wish they offered more colours and that their colour descriptions were more accurate.  I would have labelled this as a black-brown.
In any case, if you see a colour you like in Natural Instincts Vibrant, definitely give it a shot.  I loved it.  Also, there's a colour refresher pack that comes in the box so that you can refresh your colour without recolouring after two weeks.  It's actually a little bit of semi-permanent dye that you add to your hair while you're in the shower.  Because it's semi-permanent, it'll give your hair a hit of dye so that any fading is minimized.  The dye lasts 6 to 8 weeks.   I have yet to try it, but I will update once I have!