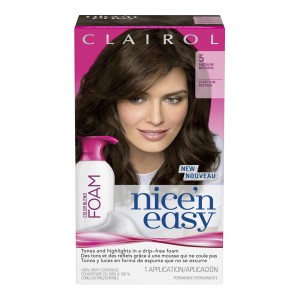 The hottest thing in hair color is foam hair colour.  The foam is much like a mousse and deposits colour all over the hair.  I've already tried L'Oreal Sublime Mousse Hair Color and I didn't love it because the coverage wasn't great.
Now, I try Clairol Nice 'n Easy Color Blend Foam which is out on counters already.
I'll start by saying that no, I still haven't found my holy grail of products but that this was better than the L'Oreal Sublime Mousse.
The Clairol Nice 'n Easy Color Blend Foam inched ahead because it actually has excellent coverage and I really like how my hair looks after using this foam.  The colour is opaque and shiny which is what I'm looking for!  All my grey was covered.
But, what this has in colour, it lacks in design for this product was a terror to use.
Unlike the L'Oreal Sublime Mousse, this foam is not fine and dense.  Instead it comes out as a loose and airy foam, with large to medium sized bubbles that pop really easily.  When a bubble pops, the liquid splashes all over the place, making this a very messy product to use.  Yes, it was easy to apply in the hair and I could do my whole head with one bottle, but when I was done, there were tiny splashes of colour all over my bathroom and all over me!  This was quite unusual and something that I hadn't seen with the L'Oreal Sublime Mousse.
The foam is also deposited by you squeezing the whole entire bottle rather than just the top, so what that ends up meaning is that you take your wet gloved hand and try to grasp the bottle and squeeze.  What happened with me is that once or twice the bottle actually slipped out of my hand and fell into my sink.  I had to be really careful, which wasn't hard, but it was a bit of a nuisance.
Again, I have to say that although the application was a pain, I can see myself using the Clairol Nice 'n Easy Color Blend Foam again because the colour was so great.  I used Dark Brown and I have nothing bad to say about it.  The product is on drugstore shelves already and retails for $12.99.
I do think that the foams are here to stay because they give just the right amount of color, but the packaging and delivery of the product needs some fine tuning before it's perfect.  If I find a system that comes out in a convenient mousse type bottle, then I'm going to try that.