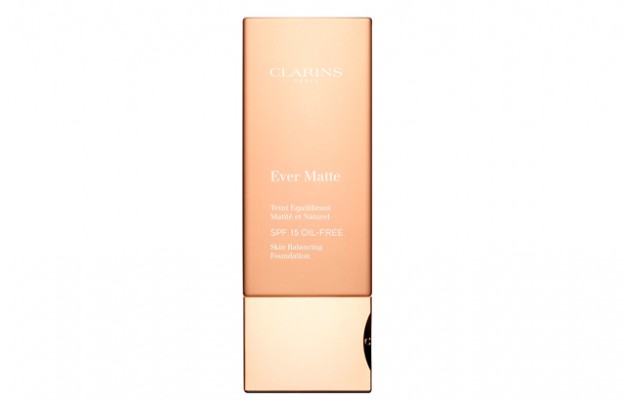 Summer is coming (or already here, depending on where you live) and so you'll see me reviewing a lot of matte foundations (because this is the time that companies are releasing them!). Although I love tinted moisturizers for the summer, I have to say that there are times when only the flawless finish of a foundation will do.
Interestingly enough, this is the first Clarins foundation that I've ever tried, and I really liked it!
Clarins Ever Matte has a blend of plant and mineral extracts in it, like all other Clarins products, however it is a lightweight long-wearing foundation that blends into skin for a flawless finish. It also has SPF 15, and is oil free. The coverage is medium, and I found I could layer it for more coverage if I needed, instead of using a concealer.
The foundation is perfect for oily skin – it absorbs oil and really does leave skin with a satiny matte finish. I found that this absorbed oil so well that I could even use it as an eyeshadow base, and it wore well the whole entire day. Because the matte finish sets quickly, the best way to apply this foundation is with the fingertips. You'll find that you'll be able to blend it better, whereas using a brush caused it to streak.
I'm about an NC40 or 42 in most MAC foundations, and I found that shade 112 Amber was the best match for me.
After about a week of using the foundation daily, I have to say that I'm a fan, and would recommend it highly for those who have oily skin. There is also a powder version of this foundation which I haven't tried.