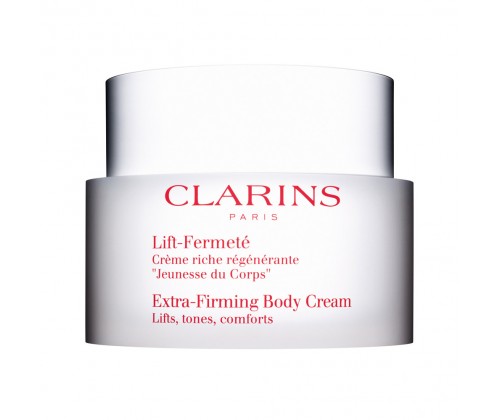 I'm obsessed with body butters at the moment, and I have to write about one that I hate to admit that I'm using. It's Clarins' Extra-Firming Body Cream, which is said to tone your skin and make it tighter. I had to say that I did initially try this to see if it had a firming effect – and no, it did not.
But once I used the cream, I just couldn't stop using it because it's so amazing.
The cream is very thick. You really have to dig it out of the jar, and so it does feel like it's more of a body butter.
However, it emulsifies when you rub it between your hands, and turns into a liquidy oil once you start applying it. It absorbs quickly, and moisturizes the skin for the whole entire day. The mixture of water, silicones, and Shea butter do a great job of keeping moisture in, and because it turns into a light kind of oil, it's great for using after the shower when skin is still slightly warm.
I have to say that the best thing about this is the scent. It's got a light rose scent that stays with you, and whenever I use this cream, I get comments on how good I smell for the whole entire day.
I realize that about $60 is kind of steep for a body cream, but this really is one of the loveliest ones I've ever used, and a jar will last you a couple of months at least.
Pick it up at your local Clarins counter.