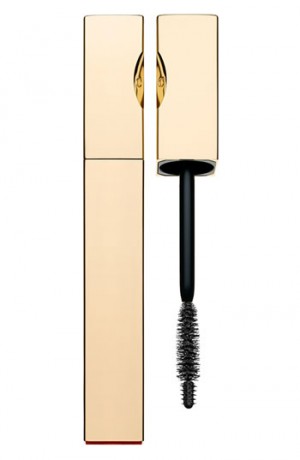 For once a brush that I saw and knew that it would work well and that it was made for me. I know, it looks totally weird, but the brush on Clarins Instant Definition Mascara is really great. We all have a hard time getting to those eyelashes in the inner corner of the eyes, and this mascara lets you get at them with its thin tip.
I gotta admit – though I knew this would work in theory, it was a little difficult to get the brush to work perfectly. I just wasn't used to it and needed to adapt. But once I got the hang of using the brush I was just fine.
The key is knowing that you can only get to a few of your lashes at a time, and that's ok! The brush lets you manoever so that eventually, you will be able to get them all!
With just a couple of swipes, I had gotten mascara on all my lashes, and they looked totally lush and full. I think the effect is better than that of other mascaras because you get to every single tiny lash that you have, and it's so easy. I used to get all the lashes before too but it was much more difficult and I would spend a lot of time putting mascara on. This brush makes it really easy!
All that and no smudging or flaking either. This is the best mascara I've used and definitely one of the best wands I've ever seen.
Pick up the mascara at your Clarins counter.