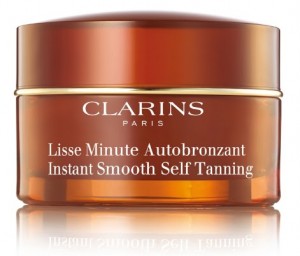 Summer's almost gone… but in an effort to hold on to as much of it as possible, I have taken to wearing every dress and skirt in my closet so that I don't have to say goodbye to summer. With that goes my urge to have a bit of a tint… a tiny tan…
And I've turned to Clarins Instant Smooth Self Tanning which is a primer, bronzer, and self tanner all in one. It's got silicones and a bit of a bronze tint to it so that pores and imperfections fade away instantly. The texture is almost like a balm that melts into your skin. It also mattifies and if you choose to wear a foundation or powder on top, it will really grab on to those and make them last longer on your skin.
But the self tanning ingredients mean that as the day goes on, you develop a bit of a tan.
In just one use, I did see a noticeable change in skin colour, and it lasted the whole week.
Pick this up while the summer lasts at your local Clarins counter. 30ml for $35.