Sorry for the lack of blogs lately!  This summer has been busier than ever, and after working hard the rest of the year, August was my month to relax like I've never done before.  I read best-sellers (anyone read The Goldfinch?! Amazing!) and watch movies and television (Suits season finale was awesome wasn't it?  I'm still thinking about what's going to happen when Litt comes back).
I barely tried any new products – really just stuck to some favourites and enjoyed using those, but I'm back now and that means more reviews for you guys and some things that I'm LOVING.
Also, it's almost time for me to make my August favourites video, so stay tuned for that early next week.
How has your summer been?  What have you been up to?  Share with me in the comments, and check out my Clarins review below.  This is a lovely foundation… ok, just read it.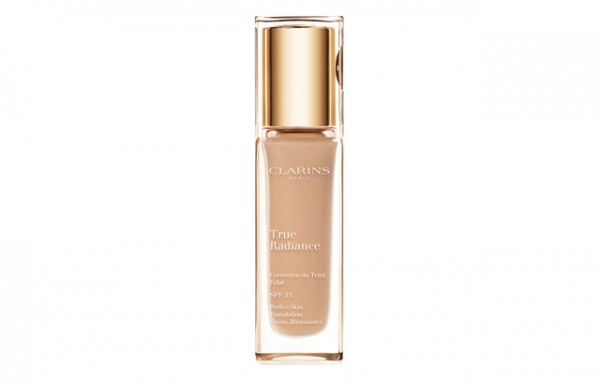 Lighter foundations are the way to go. Every single celebrity interview I read shows models and actresses touting the benefits of going lighter with the foundation on a daily basis, and putting them emphasis on skincare.
That's why Clarins has a new lighter foundation too.
The True Radiance SPF 15 foundation is definitely an everyday foundation. It has a light texture and finish, with SPF to protect your skin every day while you're out and about.
The foundation is luminous but not glittery or sparkly. It just has light reflecting pigments that give a smoother softer appearance to the skin without drawing attention to anything in particular. It also moisturizes and lasts "24 hours" although I have not put it to the test for that long.
I do find that this foundation wears off after a long day, but maybe not as much as your typical moisturizing foundation or BB Cream. For my oily skin, it wears an average amount – definitely not as much as a typical long-wearing foundation or a high-coverage foundation.
Pick this up at your local Clarins counter (at Shoppers Drug Mart and elsewhere) for $42.