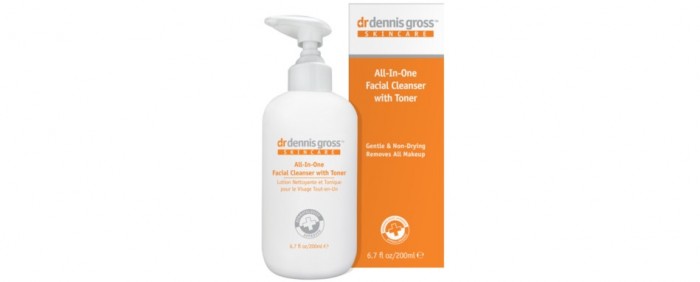 This is the latest take on the cleansing oils that flooded the market last year.  If you're not familiar, the routine is this: rub the oil all over dry skin, and then watch it emulsify and go down the drain with the addition of water, taking all your makeup and impurities with it.
Now, there's a new contender to the game.  It's Dr. Dennis Gross All in One Cleanser With Toner.  It's said to cleanse and tone skin all in one leaving you with fresh and clean skin.
One glance at the ingredient list shows that this is a mixture of oils, extracts, water, glycerin, and other ingredients to make a sort of cream.  You rub it into dry skin with dry hands and like the aforementioned cleansing oil, it incorporates makeup and dirt.  When you add water, everything just comes together and washes off easily.  It really is the best way to clean skin.  Oily skins may wish to follow up with a soapy cleanser of course.
Does the product work?
It most definitely does.  Skin is more refreshed and does feel completely cleansed and toned.  I like to use it as a one step cleanser in the morning, but at night I follow up with a soap cleanser as I would with any cleansing oil.
Pick this up at TheShoppingChannel.com for $32.