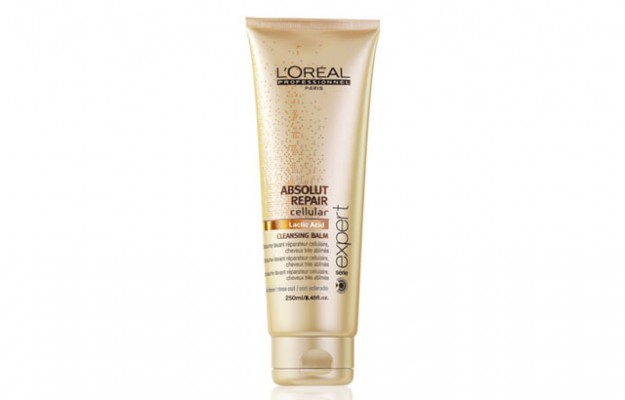 I haven't shampooed my hair in 3 weeks, and I've never been happier with it. Instead of using the regular shampoo, I've been using L'Oreal Professionnel Serie Expert Absolut Repair Cleansing Balm. I've been a fan of L'Oreal Professionnel hair care for a long time, because their repair products make my hair really soft and shiny, so although I hadn't had good experiences with the Chaz Dean balm shampoo, I wanted to try this.
The entire Absolut Repair line claims to use "lactic acid technology" to "repair hair cell by cell". If you're familiar with lactic acid, you know that it's used mainly in skincare products to help skin cell turnover. It simply makes your skin exfoliate itself faster so that new better skin is revealed. It's unclear to me how this could be used to repair the cells in your hair, but as I said, I love L'Oreal Professionnel products – especially when they're "repairing" – so I really wanted to try the Absolut Repair line.
The cleansing balm is completely soap free and doesn't lather. You smooth a generous amount on to your scalp, mix in a bit of water, and rub to distribute into a foamy emulsion. The balm is really thick when it comes out of the tube, but once mixed with water, it's fairly easy to rub throughout your hair.
I wouldn't say that I was totally in love with the balm the first time I used it. I would use the balm, and then still reach for my regular shampoo. I just missed the feeling of soapy lather going through my hair; however, I decided to give the Cleansing Balm a real shot, and ended up taking the shampoo out of my shower completely so that I wouldn't be tempted to reach for it. After using just the balm a couple of times, I realized that it left my hair just as clean as a regular shampoo and not as dry. I still liked using the Absolut Repair Masque because it just made my hair really feel settled and optimally moisturized.
After I ran out of the bottle of Cleansing Balm, I did try the Absolut Repair Shampoo, and of course I love it. I did notice that it was slightly more drying to my hair but that's obviously because I had gotten used to the gentleness of the Cleansing Balm. I also noticed that my hair colour hardly faded at all over the time that I was using the Cleansing Balm, which is a major bonus.
I even tried the Serum and Leave-In Conditioner that are a part of this line, and they don't disappoint either.
Truly, the product to write home about is the Cleansing Balm, and it totally changed how I think of hair cleansing. Pick it up at salons for about $21.