This spring, I want to take an added interest in renewal.  WE all want better skin, whiter teeth, and a healthier body but what are we actually doing to get any of those things?
When it comes to brighter skin, there's no secret to getting it.  By now you should have already started using Glycolic acid and vitamin C on your skin on a regular basis to keep your skin without any scars.  There are tons of products out there and a range of ingredients that actually work.  Even rosemary oil, and niacinamide can all help fade spots and Olay's Definity line of products has had proven results.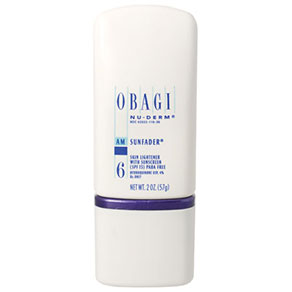 But I prefer to use something a little more intense.  I like using HQ creams because the results are a little more immediate especially when sued in conjunction with an effective glycolic peel.  They can fade sunspots, acne scars, age spots, and even liver spots.  You can notice an effect in a matter of weeks and it's up to you to keep using the cream until you're happy with your complexion.
Here in Canada, HQ creams are only available over-the-counter, and in some provinces you are required to give your information before purchasing the cream.  Neostrata makes a cream and there's a non-commercial version of it as well.  But I like using Dr. Obagi's Sunfader cream which is the same thing and not available at the drugstore.  You can only get this cream at a dermatologist or laser rejuvenation center and though it costs more, it's worth every penny.
Unlike the Neostrata HQ cream, the Obagi one doesn't smell and has no odor of any kind.  Though both have SPF in them, the Obagi cream has a more matte feel and doesn't leave your skin feeling and looking greasy and sticky.  You can layer makeup on top of both, but if you use the drugstore creams, your makeup will slip and slide around while it stays put on the Obagi Sunfader cream.