Check out Clinique's latest new foundation: even the applicator and bottle are meant to look like a giant bottle of concealer, giving you the go-ahead to dot directly on your face and then smear around however you see fit.  And when you need more coverage… use the applicator to dot on more.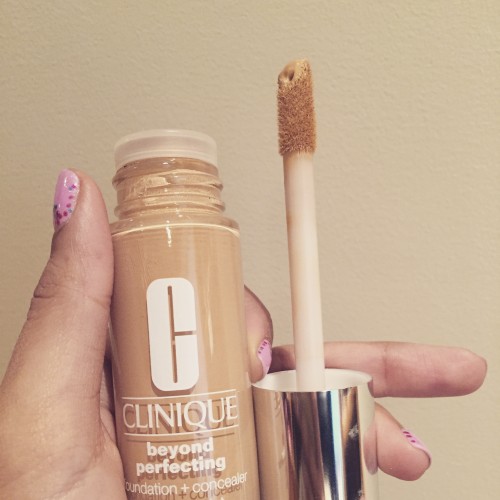 Clinique's latest foundation is meant to be an all-in-one in so many ways.  Truly, it's a medium-finish foundation that can be layered on to get more coverage so that you could use it as a concealer.  What makes it different than other medium-finish foundations is that the finish is so silky and light, that when you layer it on as a concealer, it still manages to look natural and skin-like.
The other thing that makes this foundation different is that it's supposed to be oil-absorbing and hydrating.  I can't attest to its hydrating properties because I don't have dry skin, and I use a moisturizer with SPF under all my foundations (as should you), but I can say that it holds up pretty well for oily skin.  I need to blot mid-day as I've been doing with all my foundations, and it's not a true long-wearing foundation in the way that Revlon Color-Stay or L'Oreal Infallible foundation is, but it does seem to last longer than the average foundation.  
The packaging is pretty nice – a nice heavy glass bottle that contains a huge doe-footed applicator.  It makes it easy to swipe enough foundation on larger areas such as the forehead and cheeks, but also makes it easy to dot on extra foundation and on blemishes or other areas that might need more coverage. I dot on the foundation and then blend it out with my foundation brush and the look is seamless. 
The finish is satin-matte but I powder on top and use a setting spray as well and so my finish and foundation does last for at least 8 hours. 
Pick up the foundation at Clinique for $34.