So last year, we fell in love with Clinique's Even Better product – we found that it really did help dark spots fade.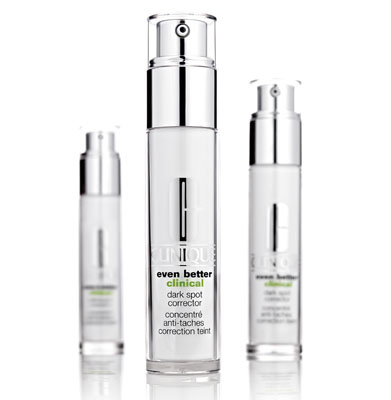 Clearly, that product was a winner, and now Clinique has made it better and come out with their Clinical Dark Spot Corrector. Like its predecessor, this helps fade dark spots and promises to give your 35% clearer skin in as little as 4 weeks. The active ingredients are a combination of natural plant extracts as well as a mix of glucosamine and salicylic acid which have been proven to get rid of the top layer of skin and reveal the clearer skin underneath.
I did my research on this product after I actually used it, and I have to say that I saw results after using it just for 1 week! I noticed that my skin was clearer, and dark shadows that had developed were now gone.
They are comparing the results of this product to Hydroquinine, and having used that before, I have to say that this is comparable. The immediacy of the results was amazing, and I think that my skin is going to get to the point that I don't have to wear foundation anymore. The Even Better Clinical Dark Spot Corrector is cheaper than any Hydroquinine product that I've tried, and it's nice that I can just get it at the department store instead of getting it over the counter.
This product is a serum, and Clinique recommends that you use it twice a day to see results. In my experience, I used this instead of my regular moisturizer and just put my makeup on top. It has a silky smooth feel when applying so makeup actually goes on top nicely without any gunking and streaking. At night, I just used this after my toner and I found that I didn't need to use any moisturizer with it.
I like that this actually works, and for me, it was easy to incorporate it into my regular skincare routine. You can get this at all Clinique counters for $63 and if you suffer from any kind of dark spots, then this is well worth the price. I am curious to know whether it works on freckles, so if you've tried it, let me know!