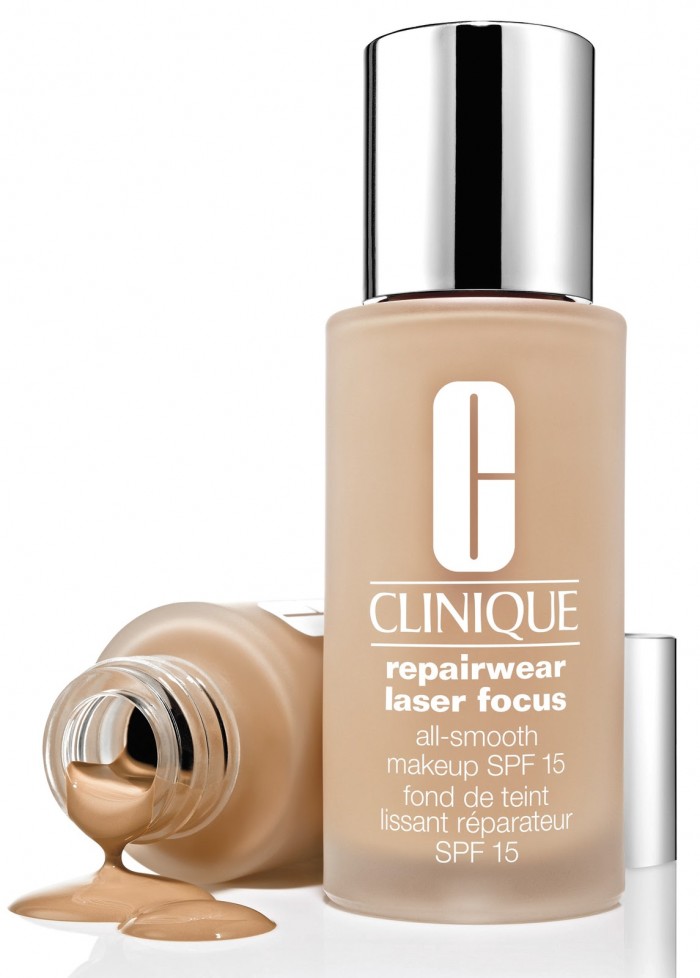 The latest innovation from Clinique is a product that uses the same technology as their Repairwear serum. We've been seeing more and more foundations that have skincare ingredients, and though I'm not sold on the fact that they actually work, I do think that anything that can add another dose of good ingredients to your skin is a good thing. Even when I wear these foundations, I still layer on serum and sunblock, and I think that they do a good job of really protecting my skin. My sunscreen is an SPF 55 right now, and thus far, I haven't found a foundation with this skin protection factor, so I'm going to continue to rely on it.
Repairwear Laser Focus Makeup is a creamy liquid foundation that comes in 12 shades, and is a very moisturizing base that's medium coverage. The moisturizing ingredients help prevent the makeup from settling into fine lines, and help keep skin supple and soft. There is also Vitamin E to act as an antioxidant, as well as SPF 15 to help protect the skin from sun damage.
After using this foundation for a couple of weeks, I have to say that I'm really happy with it, but it's not for me. I like that it's super moisturizing – my skin is rather dry this winter, and it takes care of moisturizing any dry spots for me. I also like that it has a satin finish because it makes skin look healthier than it might otherwise. I don't have to use a moisturizer when I use this foundation, and I like that I can at least skip one step. So, the only thing that makes it not for me, is the coverage. I have oily skin as it is, and so I need to powder this foundation after I first apply it so that it will set all day. The medium finish of the foundation coupled with the powder just makes it look like I have a tad too much makeup on. It's not the foundation that's the problem – it's just that I don't need this much coverage in a foundation.
Pick up Repairwear Laser Focus Makeup at your local Clinique counter for $39.50.
You can read the original Repairwear Serum review (posted a year ago) here.
Also if you're wondering, I'm an NC40 and I found that shade 07 was the closest match for me. It ran a tiny bit dark, but it was wearable and worked.