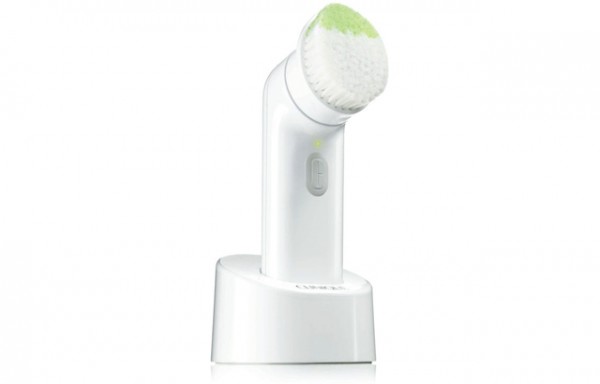 I have it!  Clinique's new Sonic System Purifying Cleansing Brush, but first a bit of clarification: unlike the Clarisonic, there aren't any sonic vibrations when you use this brush.  It's a misnomer, because although the brush does vibrate, it's not at a sonic frequency.
That said, it's still made a huge difference to my skin so of course, I can't say anything bad about this brush.
The brush head is tapered so it lets you get at the angles in your face.  It's anti-microbial, so it won't add bacteria on your skin, and it has a 30 second timer on it.  Clinique suggests that you start by using it for just 30 seconds a day and they're right.  If you use it too much right off the bat, then you may end up irritating your skin which could result in more blemishes or dryness.
It's also recommended that you remove your makeup before using this brush.  I find that when I use the brush on foundation-covered skin, the pigments stick to the brush and I have to use it more than once to actually clean my face.  It's much better to wash with a mild cleanser first, and then use this brush.
Used regularly, you will find that you have extra clean skin and skin that just seems clearer and more well-behaved. It's also waterproof so you can use it in the shower, and recharge it using the charging base when needed.
Available at Clinique counters for $95.